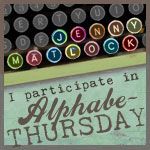 There's
this blog
that has fun memes I like to participate in and for the last few weeks I've been joining in the fun of 'Rainbow Summer School.'
Red was easy, Orange not too hard, Green--just fine, Blue worked well for me... then we hit Indigo.
...
...
...
Indigo!?
I have spent the last week trying to find something around my neighborhood that was almost blue and almost purple.
Then I came up with THE BEST twist on this week's meme!
Inigo.
Half of you just smiled and the other half stared blankly, I just know it.
That would be Montoya, Inigo Montoya. Wizard Swordsman and bested only once--by the Man in Black.
heh heh heh
In the book, and subsequent film,
The Princess Bride
--both by
William Goldman
, Inigo Montoya delivers (in my most humble opinion) one of the best lines ever written:
"Hello, my name is Inigo Montoya. You killed my father. Prepare to die."
He says it about twenty times.
"Inigo began the track-down. He had it all carefully prepared in his mind. He would find the six-fingered man. He would go up to him. He would say simply, "Hello, my name is Inigo Montoya, you killed my father, prepare to die," and then, oh then, the duel.

...

Inigo had only one problem: he could not find the enemy."
I grew up watching this movie, but didn't read the book until I was married. I love the book. I'd recommend it to anyone needing a good, fun read.
"This is a special book..."

"Does it got any sports in it?"

"Are you kidding!? Fencing, fighting, torture, revenge, giants, monsters, chases, escapes, true love, miracles."

"Doesn't sound to bad, I'll try and stay awake."
And yet, since this
is
The Literary Soundtrack and I just have to have a song to go with each book I started digging around on
YouTube
to see if anyone had any ideas. I found some interesting combinations:
Inigo Montoya/ Eye of the Tiger
:
Did my time, took my chances
Went the distance, now I'm back on my feet
Just a man and his will to survive

So many times, it happens too fast
You change your passion for glory
Don't lose your grip on the dreams of the past
You must fight just to keep them alive
Westley & Buttercup/Right Here Waiting
(my favorite combo):
Wherever you go
Whatever you do
I will be right here waiting for you
Whatever it takes
Or how my heart breaks
I will be right here waiting for you

I took for granted, all the times
That I though would last somehow
I hear the laughter, I taste the tears
But I can't get near you now
Westley & Buttercup/Love Story:
I got tired of waiting,
Wondering if you were ever coming around.
My faith in you was fading,
When I met you on the outskirts of town.

And I said,
"Romeo, save me, I've been feeling so alone.
I keep waiting for you, but you never come.
Is this in my head,
I don't know what to think,"
Now you're probably wondering--
"[Am I] trying to trick [you]? . . . Is this a kissing book?"
And all I can say is:
"Wait, just wait."
---
Books:
The Princess Bride
by
William Goldman
Music:
The Eye of the Tiger
by
Survivor
Love Story
by
Taylor Swift
Right Here Waiting
by
Richard Marx